Edited Transcripts
Kevin Nash and Scott Hall Live Chat on February 13, 2004
02/13/04 18:57:00 KevinNash entered the room
KevinNash> great to be back in burbank johnny!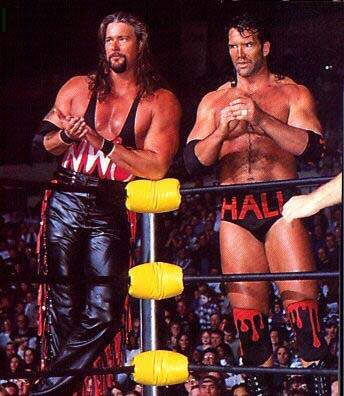 KevinNash> hey everyone thanks for sticking around while scott and i figured out how to get on this damn thing....as of right now i have no talks with anyone to wrestle...just kinda layin low
TheChosenOne> What was yours and Scott's first reaction when you found out about WWF bringing in the Fake Diesel and the Fake Razor??
KevinNash> it was great! imitation is the best form of flattery!!! that deisel guy reminds me alot of kane!
B52_Bomber> Kevin in your opinion why did the nwo fail in the WWE?
KevinNash> the nwo didn't fail! ratings went up, ticket sales went up at house shows, the fact is when an intity almost puts a company out of business comes back, i think they forgot they owned it and killed it
AScottHalllover> are you going to do anymore acting
Resee> Kev, you've said before that you wanted to do a movie of your comic ... any serious takers?
KevinNash> working right now on creating a tv show as we speak..can't go into specefics because of confidentiality., but i can say that it is not gay porn
TNAChosenOne> What was your greatest memory of being WCW?
KevinNash> the night when hogan, scott and i were in the ring for the first time.
TNAChosenOne> Hi, What do you think about all the media surrounding the possibility of you and Scott Appearing in TNA?
CindyG> Okay,,,Thanks! Kevin, are you going to appear in Ohio anytime soon?
TNAChosenOne> Hi scott, hi Kevin, What do you think of the TNA product, it is after all an alternative to WWE programming?
KevinNash> write your name and address on a cashiers check for $10,000
02/13/04 19:12:00 Scott Hall entered the room
ScottHall> 2 sweet
ashleychica2001> Hi Kevin and Scott. First off Happy Valentine's Day! My question is for you Kevin. How does your son's classmates react that you are a wrestler?
KevinNash> some are fans some see me as tristens dad, mr. nash
annie> To Kevin....you are looking great with your new hair cut....you look 10 years younger.
chinesenoodle> i love your haircut miss long hair too
ScottHall> i've seen kev's hair go from the master blaster mohawk to oz-like crew cut to long black mullet to fabio blonde i liked them all
KevinNash> don't be pointing the mullet finger at me razor!
ScottHall> it was the style BROTHER
Fainter> Nash ok this is stupid but to you remeber how tall you where when you where 14 - 16?
KevinNash> when i was 16, i was 6'10 and weighed about 200lbs
ashleychica2001> How are your children Scott?
ScottHall> kids are great thanks
ringsideradio> I was wondering if Scott or Kevin would be interested in appearing on Ringside Radio, a popular wrestling radio show here in Canada
ScottHall> canada eh? think they'd let us in the country kev?
TJBLAZE> Mr. Nash, last year you were involved in a hair match with Chris Jericho. Coming from a guy who has long hair, I know how hard it can be to cut it. Were you forced to cut your hair, since a lot of wrestlers cut their hair at the time, and if you were, how do you feel about it?
KevinNash> i cut my hair because the director of the punisher asked me to cut it. i figured since chris was a friend i'd let him get some heat by cuttin my hair....i had to do it anyway, so why not on tv
ROBfromSouthTexas> Scott Hall, while you wrestled in the WWE (then WWF) under your ""Razor Ramon"" persona, were you allowed to keep the chains you wore to the ring? Or were they possibly yours to begin with?
ScottHall> mine to start with rob
SCOTTHALLSGIRL> Come to NY we love you guys up here.
nashfan123> scott i am from long island ny
ScottHall> i love ny
CindyG> Getting involved in wrestling, and getting to know you really helped me to get thru the death of my mom in '2001. You're a cool example of a person.
KevinNash> sorry to hear about your mom, i know how it is.
nashfan123> this question is for you nash when will you come back to the wwe and put eric bishoff in his place
KevinNash> eric is a friend...eric made me rich
nashfan123> scott do you miss being in the wwe
ScottHall> miss some of the boys
Nesto> Hey Kevin...do U die in the Punisher?
KevinNash> i can't remember if i die, you will have to watch it and see, BROTHER
Nesto> That's Cool Kevin...The movie is out this summer right?
KevinNash> the punisher is april 16.
SCOTTHALLSGIRL> Any appearnces in NY like the one next week?
KevinNash> i may mc a party at coyote ugly in nyc for wrestlemania
EvanNash> KEVIN & SCOTT.....What are your thoughts on the ""silly gimmic"" era of the early 90's? Personally it was my favorite with guys like Repo Man, Skinner, The Quebecers, etc etc. You and Scott were there at the time too, which was great. Not that you had a silly gimmick or anything, but I just remember those as some of the best days the WWF had. Especially with you two
KevinNash> bastion bugger was money, BROTHER
rocknprnstr> Scott Hall, how big of a fan are you of Scarface, and was razor solely based on the character of Tony Montana?? Also whats your nationality??
BadGuy> HALL,I JUST WANT TO SAY IM A BIG FAN! ANYWAY HAVE YOU EVER THOUGHT ABOUT DOING ANY ACTING?AND WHATS YOUR FAVORITE MOVIE IF YOU DONT MIND ME ASKING.
ScottHall> scarface i got the razor gimmick from tony montana
KevinNash> is anybody listening to banana rama these days besides me?
Sugar_Bear> with Valentine's Day just hours away, are you two guys romantics?
KevinNash> i'm very romantic...i sent scott a dozen roses and a box of magnums
Kevinslittleangel> kevin are you a country fan if so who is your favorite country singer
KevinNash> merle haggard
ScottHall> johnny cash or johnny paycheck
Khaotix> Hey Scott,what was your opinion Of ECW
ScottHall> i remeber bret hart calling it pornography it doesn't take much skill to pop a crowd with a flaming chainsaw match
blacmex> Are you guys still cool with Sean Waltman?
ScottHall> yeah i got much love 4 kid
KevinNash> waltman is mia, china has him in the gimp outfit from pulp fiction
Maria> hello you two. Glad to know you are both doing well. I've been a fan for years. Whjt do you both think of the Evolution guys?
ScottHall> anything with hhh and flair is good in my book
ashleychica2001> What is your favorite show on tv now?
SCOTTHALLSGIRL> I LIVE BY YOUR QUOTE ""IT AINT HOW MANY TIMES YOU FALL IT'S HOW MANY TIMES YOU GET UP!
KevinNash> legends of the fall.
vampiregirl> Hi Kevin are you gonna do anymore Movies by the way you ARE HOT!!!!!!!!!!!!!!!!!!!
KevinNash> working on 3 projects right now.
losingmymind2> Kevin, you have inspired me in my rehab from an accident, who is your inspiration?
KevinNash> benjamin franklin
thunder5> HI Kevin & Scott I've been a bg fan of u guys for ages and also thing the outsiders are one of the best tag teams ever
ScottHall> yo thunder no doubt
masterblaster-rob> Hey guys.. Are there any plans to wrestle in Japan? oh and Scott..what was it like wrestleing for New Japan
ScottHall> new japan is 1st class
ScottHall> kev who are we gonna beat up next week besides joe millionaire
beverlyr> Kev...what are the latest, greatest hair products, now w/ the new cut?
ScottHall> i think kev is using the same product from something about mary
thunder5> what do u guys think of the state of wrestling today
KevinNash> it's still in the top 5 of cable ratings everyweek......i'd like to see more plot twists and more in depth story line. i think everybody should be forced to worship the outsiders before every match!
Georgie> What is in the future for Kev and Scott?
KevinNash> the future for scott and kev....looks like massachussetts is the only state that will let us honor our commitment ceremony, BROTHER
michellopes> For either Hall or Nash : If you had to have a program with a wrestler you have never been in the ring with, who would it be?
ScottHall> randy orton is the best young cat i've seen
Ares297> Kev, your the best worker ever on the mic, whats your most favorite memory of a shoot or worked shoot you did on someone ?
KevinNash> my favorite skit- double A, i still got heat from him, i know it, BROTHER
Kevinslittleangel> kevin wat is your favorite color
KevinNash> MY FAVORITE COLOR IS ORANGE, FOLLOWED CLOSELY BY BURNT ORANGE, BROTHER
kit10> Who are some of the guys you have respect for?
ScottHall> i always respected chief jay strongbow
Kevin-Nash-Rules> Question for Hall and Nash: What was your favorite wrestler growing up?
ScottHall> my fav dusty rhodes
gigliottius> Scott or Kev, will you be signing or meeting with fans at the Grove on the 20th
outsider63> it is my birthday on the 20th, and i got tickets to see you at the grove in anaheim...vip tickets. are you taking pics? it would make my day to have a pic with you 2
KevinNash> WE ARE NOT TAKING PICS, BUT THERE IS GONNA BE A CHARACTER ARTIST DOING ART INCLUDING YOU WITH THE OUTSIDERS.......(JUST KIDDING OF COURSE WE'LL TAKE PICTURES)......BROTHER
(click here to see the photo of Kevin with this fan at the show)
outsider63> hey nash and hall....how was it like wrestling eachother in WCW? hard to do being friends and all?
ScottHall> the nWo stuff was a blast we had good tags with harlem heat and the stieners
gigliottius> Scott, What was your favorite character you played in wrestling and with what wrestler was your favorite fued?
ScottHall> i liked razor and had fun with hbk
gigliottius> Scott or Kev, how often do you talk to members of the Clique?
ScottHall> all the time
KevinNash> somebody from the klique talks to somebody from the klique every week, BROTHER
CiccioBello> Yo Scott i have a question that's been bugging me
ScottHall> shoot
CiccioBello> um you know when you were released in 2002 in the WWE i heard rumors that there were problems between you and the company for letting you go. I just wanted to know if it was true or not?
ScottHall> no problems it was mutual
nostalgiawrestling> Here's a question for Scott Hall from Quebec, Canada. In your AWA days, you've been in the ring with the legendary Road Warriors. What's your comments about the passing of Hawk and the legacy left by The Road Warriors.
ScottHall> what a rush to work with the lod
KevD> with all this Brother stuff, how do you guys feel about Hogan and his departure from WWE?
KevinNash> HULK HOGAN INSPIRED ME, .........DOUBLE BROTHER!!
deth4lif> Who is the best wrestler out ther today in your own opinions? not counting yourselves
ScottHall> hulk is still the man BROTHER
KevinNash> HHH IS THE BEST PERFORMER BOTH MIC SKILLS AND WORK
ScottHall> he got groomed by some of the best huh kev?
KevinNash> LOL, BROTHER!
elway41177> I think vince mcmahan is completely ruining former wcw wrestlers what is your thoughts on that?
ScottHall> vince won't push something he didn't create ie nWo and watch goldberg job for brock
Dogg> Hi, to Kev, what is your take on Randy Savage and his rapping (honestly) and to Scott, are you ever going to do an MTV cribs? Take care guys
KevinNash> HAVEN'T HEARD ANY OF RANDY'S RAP, BUT RUMOR HAS IT THAT EMINEM BOUGHT THE CD AND LOVED IT, ..BROTHER
Clique4life> Any chance of an appearance somewhere down south?
KevinNash> I THINK WE ARE GOING TO BE 'DOWN THERE'
ScottHall> DOWN WHERE?
KevinNash> RIGHT HERE !!! AHHHHHHH
CiccioBello> hey Hall i was wondering are you coming back to wrestling anytime soon?
d4nny_49> Hey Brother! To Nash or Hall:If you had just one match to do, who would you choose to fight?
Trish> G' evnin Kevin and Scott.. you guys rock by the way.. But Hey when are you guys going to perform again.. and Where...
Kat> Trish; UPW, Anaheim Cal, Feb 20th
ScottHall> KEV WHY DON'T WE BEAT THESE GUYS UP AND FILM IT LIKE ARE EMPTY ARENA MATCHES
LoTrgrl> Hey Kevin and Scott , I just wanted to know if you guys ever dreamed your careers would go this far and successful in Pro Wrestling?
KevinNash> NO.. I NEVER THOUGHT I WOULD BE THIS SUCCESSFUL, THANK YOU GOD
nWoSCOTTHALLFAN2004LIFE> YOU RULE HALL!!!!!!!!
ScottHall> SPREAD THE WORD
nWoSCOTTHALLFAN2004LIFE> I DO 24/7 WE NEED YOU MAN LOL SERIOUSLY
ScottHall> THE WORD IS LEGS
covenant> I am an older fan, and I was wondering if during the nWo run in WWE, were there any tlaks of a match betweent he Outsiders and Kane/taker? Also, what do you think of those guys as inheritors to the ""big man style"" popularized by yourself, nash?
KevinNash> MY STYLE IS TO BE BELIEVABLE. ANY FIGHT I HAVE EVER BEEN IN A BAR I DON'T REMEMBER JUMPING OFF THE BAR ITSELF ONTO SOMEONE. SCOTT AND I BOTH PUNCH AND KICK..WE ARE BRAWLERS
covenant> and for you Scott Hall, i always had this feeling the rock owed you some credit for his in-ring style, any thoughts on that theory?
ScottHall> VERY FLATTERED ROCK TOLD ME HE DUG MY RAZOR GIMMICK
thunder5> Kevin are u and Scott ever gonna do a tour of Australia
ScottHall> KEV SAID AUSTRALIA WAS LIKE CANADA WITH BAD ROOM SERVICE EH
mryoshida> also, what do you guys think of that Atkins diet? It's a fad right?
KevinNash> I DO LOW FAT- SOUTH BEACH DIET...
KliqMark4Life> No one ever seems to be too sure, is Justin Credible considered part of The Kliq/Clique? And what are the chances of some sort of nWo reformation in the future, maybe in TNA?
ScottHall> JUSTIN WAS KLIQ AS BALDO MONTOYA
Rheannon> Scott, now dont knock Australia till you come down here for yourself mate!! love to have ya!
ScottHall> DOWN WHERE?
Shimmer> What are your opinions of the 1996 ""curtain call"" incident, and the punishment HHH recieved for his involvement?
KevinNash> CURTAIN CALL RULES, SHAWN HAS BEEN PUNISHED BY THE KLIQUE FOR NOT SAVING HHH
d4nny_49> Who was your favorite wrestle to wrestle with?
KevinNash> I'VE HAD A GREAT MATCHES WITH SCOTT AND SHAWN AND NEEDED TO HAVE ONE WITH MY FRIEND HHH. HELL IN THE CELL IS WHY I CAME BACK FROM MY QUAD TEAR
KevinNash> MY FAV WAS ANYBODY IN THE KLIQUE
showdown> Hall: Did you enjoy your Razor Ramon days or your NWO days more?
ScottHall> BOTH WERE FUN NwO PAYED WAY BETTER
LoTrgrl> Scott, if you could sum your match with Shawn Michaels at Wrestlemania 10 in one phrase what would it be?
ScottHall> MATCH WITH HBK WAS FUN
thunder5> Kevin & Scott-How did you 2 meet each
ScottHall> A BATH HOUSE IN FRISCO
gigliottius> Scott, how did you stay virtually injury free during your career while most wrestlers have many injuries?
ScottHall> I GOT MY FEELINGS HURT A LOT
ScottHall> BROKE MY NOSE 4 TIMES IN A MONTH TWICE BY KEV
KevinNash> YOU CAN'T PROVE THAT RUSTY
Patrick> kevin and scott: are there any plans somewhere in the future to have a DVD released spanning your careers showcasing your favorite matches?
nashfan4life> any plans on coming out with a book?
ScottHall> WE HAVE TALKED ABOUT ON THE ROAD WITH THE OUTSIDERS
LoTrgrl> Kevin, Scott what is like seeing your faces on toy dolls and posters??
ScottHall> KEV REMEMBER THE 1ST WCW DOLLS? THEY WERE VIBRATORS
KevinNash> YEAH, EVERYONE I SIGNED THAT YEAR SMELLED LIKE FISH
ScottHall> OR WAS IT CHICKEN OF THE SEA?
KevinNash> HOW ABOUT A LITTLE BACKBRIDGE, SCOTT?
ScottHall> YOU FIRST
ScottHall> I'LL BE YOUR BOWIE
LoTrgrl> Kevin Scott, What did you guys think of the way the movie Ready to Rumble portrayed WCW?
ScottHall> NEVER SAW THE MOVIE WHEN THEY TOLD US NO EXTRA $ WE DECLINED TO APPEAR
KevinNash> BOUT TIME YOU CHANGED TO ALL CAPS SO I COULD SEE YOU
blacmex> Kev, do you plan on ever growing your hair long again?
KevinNash> NO LONG HAIR...I WAS STARTING TO FEEEL LIKE IGGY POP
MrPerfect> Sup Kev & Scott, just wanted to let u know that THE GOLD CLUB is now a CHURCH,...ironic, huh? Also who took a dump in Sable's bag?
ScottHall> SEVERAL DIFFERENT TEXTURES WERE FOUND IN SABLES BAG
ScottHall> CASE IS STILL BEIG INVESTIGATED BY MR. FUJI
BadGuy> HALL,WHOS YOUR ALL TIME FAVORITE BAND?
KevinNash> BADGUY PLEASE GET OFF OF ALL CAPS, IT'S JUST FOR SCOTT AND I , IT'S BEEN A LONG ROAD FOR US
deth4lif> Do you guys go out to strip clubs when out on the road? Ever go to one in ft. wayne, indiana?
ScottHall> YEAH I REMEMBER FT. WAYNE
ScottHall> THEY HAD A FEATURE DANCER THAT NIGHT
KevinNash> SCOTT REMEMBER WHEN I POLE DANCED AT STEWIES IN FT. WAYNE?
ScottHall> I STUCK MONEY IN YOUR THONG
Blackjac> My first question is to Kevin, would you be interested in doing a one time show with your brother Kenny Nash (who I've met personnally and looks a lot like you) in his federation??
KevinNash> I HAVE 1 BROTHER NAMED MARK. 1 NAMED SCOTT. 1 SHAWN. 1 SEAN. 1 PAUL, .........BROTHER
Dogg> Well its 4.18am here in the UK and I sat up for this. I am not disapointed. Good show guys. One last question - What was your take on Warrior?
ScottHall> WARRIOR WAS A GOOD GUY
ScottHall> KEV I'M OUT GONNA SPEND SOME TIME WITH HART GOOD NITE BROTHER
TheReject> nash what happened that one time ah MTV's spring break when someone threw a rock at you?
ScottHall> IT WAS A SKITTLE
ScottHall> BYE GUYS THANKS FOR BEING HERE
02/13/04 20:24:51 ScottHall left the room
KevinNash> THANKS FOR SPENDING SOME TIME WITH ME.. IF YOU ARE A FAN THANKS FOR THE YEARS OF CHEERS.... WHEN YOU LEAST EXPECT IT THE 'OUTSIDERS' WILL RIDE AGAIN........BROTHER..... PEACE OUT!
KevinNash> PLEATHER RULES
02/13/04 20:33:12 KevinNash left the room